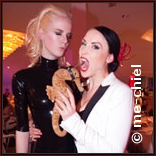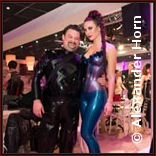 After the Fetish Dinner we continue on friday with The Meet & Greet.
Held in a different area of A9 Studio's which is never used before for the Dominatrix party
This is a special event used by the guests to increase their networks in a casual setting.
Contacts are made, business appointments scheduled ( for example photo shoots, castings etc.)
These kind of parties are commonly known abroad, but Dominatrix is unique to host this one in the Netherlands.
The entire organisation offers everyone a personal welcome.
Atmosphere is described as, friendly, classy, posh, fun, ex-centric and maybe a bit naughty..
Beautiful guests, all dressed in full fetish outfits catch up with their friends and colleagues. all you see and hear is flashing camera's and a lot of laughter.
The winner & contestants of Miss Fetish Europe make their appearance and are ready to be photographed with all of you!
Location:
A9 Studio's
Time: 20:30 - 02:00
Dresscode: casual, but fetish wear is allowed and welcomed
Entrance fee: € 5,-